Powell jewelry armoire with mirror and reviews wayfair. Hampton bay jewelry armoire jewelry armoires bedroom.
Acme furniture lopez 97006 traditional jewelry armoire, acme furniture lopez jewelry armoire in cherry 97006 the. Shop coaster fine furniture black floorstanding jewelry. Here's one of my favorites up for auction. If you or someone you know wants a place to organize their jewelry this item is the bomb.
Not only does it have lots of storage for necklaces, but it also has a mirror. Plus, it's wall mounted so it won't take up space in your bedroom. Take a look at all the items and make your bid. Please use pull down (when available) to determine your price. Colors and finishes may vary depending on your monitor. Its small configuration made this easier to transfer to another place.
Its portability and high quality construction makes this desirable for limited space. It has one fake drawer and four drawers with one removable wood divider. The felt lining will keep your valuables protected and the side doors offer hooks for storage of your necklaces. Each of our bedroom furniture pieces including our jewelry chests and armoires are custom made using quality materials and proven construction techniques. Amish furniture combines exceptional quality materials and old-world craftsmanship to create unsurpassed quality furniture. Your bedroom deserves finely crafted furniture that can stand up to daily wear and tear. Your drawers and doors get closed thousands of times over the years, so you need furniture that can withstand daily use without sacrificing character. If you're concerned that a new piece of furniture won't match your existing bedroom set, we have color-matching experts who will match the exact shade of your existing furniture to your new piece.
You can learn more about each different kind of wood.
You can choose one or more speciality finishes you'd like your piece to have. Our catalyzed varnish is standard on all pieces unless you would like it unfinished.
You can learn more about each different kind of finish. For a painted base and grainy top please contact us. Each monitor is different and may skew stain colors. These stains can be labor intensive and tricky to get just right. Color variations are to be expected with these stains.
We are able to mail out 6 samples at a time. And they do so with intricate attention to detail. For example, you'll notice that the builders create drawers with dovetail joints for strength and a full-extension feature for easy, hassle-free access. Plus, we included a built-in ring/bracelet/jewelry holder and dividers. So view our entire online collection of jewelry armoires and jewelry cabinets.
We offer this jewelry box with wooden dividers, so you can organize your precious pieces of jewelry. This armoire offers jewelry storage options in five drawers and a pair of wings. So, you can easily store your jewelry collection.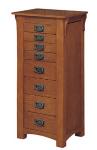 This cabinet offers ample storage in a small package. So, you can make a statement without taking up too much space!
This armoire has rope twist details and flared feet, so it really stands out. Not only is it beautiful, but it is also very useful with plenty of storage space. This impressive armoire offers 9 drawers and a pair of wings, so you will have plenty of jewelry storage options.
We offer this piece in a variety of styles, so you can select the look that fits your home decor.
We also offer an optional hidden drawer, so you can conceal your most prized possessions. This armoire offers versatile storage in drawers, on shelves, or in the wings, so every jewelry piece has a home. This armoire is stunning and built to last, so your family can enjoy it for generations to come!
This armoire offers ample storage, so you have plenty of space for a large jewelry collection. Also, you may use the mirror as a stand-alone piece. These simple chests boast exquisite details, so they still make quite the statement. The storage unit you choose to safeguard your jewelry should be as beautiful as the pieces it is storing. This armoire definitely achieves that goal.
We offer a variety of custom options, so you can make adjustments to suit your needs. This lovely armoire is a perfect choice for your jewelry collection!
The velvet lined drawer offers more storage, so you can organize and conceal smaller items.
We have several woods and finishes from which to choose, so you can find a cabinet that matches your style. Drawer inserts come standard, so you can easily organize your jewelry.


48" Deluxe Flush Mission Jewelry Armoire Amish Valley Jewelry Armoire
This piece provides ample storage while also making quite the statement among your home furnishings. This armoire will complement your style, so you cannot go wrong with this lovely piece. This piece includes plenty of storage, so your jewelry will have a lovely home. And prevent your precious jewelry from being seen. Because it's also a fine piece of furniture. So check out the beveled edges and gracious curves. The jewelry armoire can store many pieces of jewelry. The top opens up to reveal a beveled mirror on the inside. The sides open up to store your necklaces. This armoire is a masterpiece, so it will stand out in any space!
This cabinet features plenty of storage and a mirrored lift-top, so you can achieve your perfect look!
Offering ample storage, this jewelry armoire will store your jewels in style. It offers ample storage and a mirror under the lift-top, so you can perfectly accessorize your look.
We create ample storage in a smaller package for this armoire. So, you can store the jewelry you need without taking up too much space!
You will find an abundance of storage space behind the mirror on this piece. So, your jewelry collection is sure to have a lovely home.
This armoire is crafted with versatile storage space, so it can meet your personal jewelry storage needs.
We include drawer inserts, so you can easily organize your jewelry. This armoire makes a subtle, classy statement, so it goes well with any home decor. With plenty of storage options in the drawers for smaller items, the wings provide the perfect spot for hanging your necklaces. This armoire has tons of character, so it can easily complement any home decor. No wonder they're so sturdy, durable – and great looking. These include extra ring/bracelet holders and wooden drawer dividers. In addition, our jewelry armoires feature plush velvet in green, blue or red. Many jewelry box sizes are available, including the free standing jewelry box and the dresser top jewelry box.
We also carry a line of hidden wall mounted jewelry boxes with sliding doors, but you will need to visit our retail store to view these items.
You can choose your hardware, but the standards shown in the photo. The bottom three drawers are finished inside and out to prevent snagging on delicates. It is also available in a wide array of woods (check availability ) and finishes.
And that's because they have the timeless beauty, sophisticated features and custom options that befit your fine jewelry and upscale bedroom. Several custom options allow you to create the perfect style to match your decor. This cabinet features a classic structure and refined style which make it a perfect jewelry storage solution for any home.
We offer many options to finish this piece and create the right look to fit your style. This armoire is as beautiful as it is useful, making it an excellent jewelry storage choice for any home.
You can make this piece take center stage in your bedroom or tuck it in your walk-in closet. This jewelry cabinet exudes a sophisticated character on its own and we offer several options so you can make it your own. This armoire is as beautiful as it is useful, making it an excellent choice for any home. This armoire is versatile and saves valuable counter or dresser top space, making it an excellent jewelry storage choice for any home and in any size room. This armoire offers a practical storage solution that will fit in perfectly in any home. This piece will easily take center stage in your bedroom or walk-in closet. This armoire exhibits simple beauty and tremendous jewelry storage capacity, making it an excellent choice for any home. Also, they incorporate exquisite details. So you'll find features like full-extension drawers. What's more, every bedroom jewelry armoire and chest is a showpiece of fine cabinetmaking. So the piece you choose will integrate seamlessly into your bedroom. They finish it off with a stain chosen to perfectly complement your chest and table, providing beauty and durability that can't be beat. If you have smaller bedrooms and dressing rooms, you will be happy to learn we carry a wide range of sizes, including narrow, compact pieces that don't take up much space at all. Every woman deserves a space of her own to store her jewelry, accessories and other personal items.
You can also be sure she'll love one day passing it on to her own daughter when she becomes a young woman herself.
You can also order online quickly and securely at your convenience. Amish bedroom furniture just the way you want it. Dictionary definitions of the word classic include something that is judged over a period of time to be of the highest quality and outstanding of its kind and a work of art of recognized and established value. The best materials and superior workmanship ensure you will receive an heirloom-quality furniture piece that will stand the test of time. Volume discounts and monthly specials are also available to help you save even more.
We offer mission style, shaker style, queen anne, and more contemporary style jewelry armoires. Each one is built out of solid wood with dovetailed drawers and meticulous attention to detail.