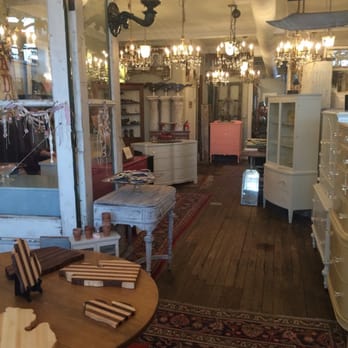 If you are looking for antiques to fill your home, this place has got it all! They have great finds in here if you want to splurge on some unique items to fill your vintage inspired home or a small business. The staff is really laid back, they let you look at everything and will stop by to see if you need any help once in a while. The prices are pretty decent and they have a ton of stuff! And NOT your typical stuff you find listed on Craigslist or what you may find in your basement or garage.
They also have a basement section full of stuff as well. I believe they also do re-upholstering on their furniture pieces.

Absolutely beautiful refurbished antique furniture and goods! So many beautiful chandeliers! You never know what you are going to come across. Well presented and designed showrooms. No overwhelming piles of stuff. A very high class antiques shop! Just take a stroll through even if you aren't ready to buy anything.
Bluedoor is a methodically sourced collection of treasures lost, found, transformed and artfully re-interpreted. We offer a unique array of antiques & architectural artifacts, chandeliers & garden elements, furniture & accessories, venerable vintage finds, objects of art, gourmet treats. and so much more.